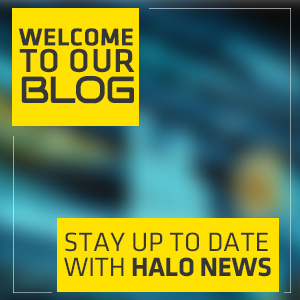 This week we wanted to spotlight one of our most recent client launches, RUSH Custom Callers! Rush Is a one-man operation run by owner, Brian Rush. We're sure some of you are big hunters and if this is the case, you might want to give Brian a call (no pun intended). RCC is your go-to for custom game calls. Yes, you can go to the store and purchase a game call, but we can confidently say that it won't stand in comparison to an RCC call. 
Each call created by RCC is unique and made specifically for the customer. Brian takes pride in his 'one at a time' method. RCC does not use any type of wood shaper, replicator, or duplicator to create calls. And if you have a lucky charm that means the world to you, Brain can turn it into your call. Brian loves to hear the personal stories behind the materials each customer provides him. So if you're interested in taking your hunt to the next level, check out RUSH and give Brian a call today!
Want to know more about Brain's experience with HALO? Check out our recent Q&A with him, and learn more about what your experience could be like if you choose HALO to take your business to the next level! Schedule your free demo today! 
Q: It's only normal to be skeptical when trying out something new. Were you ever skeptical at the beginning of this process and has that changed since finishing your new website?
A: In the beginning, there was a lot to risk. I was walking away from a stable full-time career after 18 years to start up a business I was passionate about. Luckily, I was in good hands with the HALO team, who not only built me an amazing website but have also given tons of feedback and help on how to understand a field I am very new to. After it's all said and done, I am so happy that I chose HALO. 
Q: What was your primary reason for choosing HALO? 
A: I've always believed working with good, like-minded people, is the way to be successful. After scheduling a demo and having the chance to talk with Andy and Mike, I realized that the HALO team is made up of exactly that, well-minded people.
Q: What was your first impression when you entered your new website? 
A: My jaw dropped! I was visiting family in Kansas for the holidays, and I got a phone call from Andy that the site was complete. When I opened the link, it truly felt like Christmas morning! 
Q: What is your favorite part of your new website? 
A: It's hard to pick just one, really! I think my favorite part was opening the link for the first time and seeing exactly what I anticipated, but even better! They really took my vision and made it exactly what I wanted. One thing I wanted people to know is I am not a corporation, it's a one-man show, it's just me. And they delivered perfectly! 
Q: How has HALO benefited your business since launch?
A: Exposure. Being able to go viral has been so beneficial and has allowed my friends, family, and customers to reach RUSH in a whole new way. Having help from such a great group of people who know what they are doing has made this process so much simpler for me and my family! 
Q: Were you overall satisfied with your experience with HALO? 
A: Absolutely! From beginning to end, the whole process was spectacular! 
Q: How likely are you to recommend HALO to a friend?
A: 100% Guaranteed! I would recommend anyone looking to go digital to choose HALO.